Cozumel, Mexico
Cozumel, a small island off the Yucatan coast of Mexico, is an amazing place. I hope to perhaps write a trip report, but not right now. In the meantime, here are some pictures from our trip on March 10th through March 17th, 1996.
---

Here's a cool panoramic shot of the "El Presidente Inter-Continental Cozumel" (our hotel). It's the best hotel on the island, and we got a great deal.

---

Ernesto's supposedly has the best fajitas on the island. All I can remember is how big the margaritas were...

---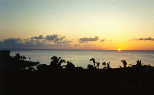 Wow! The sunsets were amazing!! This one even came out OK using the cheapo camera!

---

Naked Beach. Well, I'm not sure the real story here, but this was right next to an isolated bar on the east side of the island, which is completely deserted. We has a drink there, took this picture, and hopped in the Jeep to explore the rest of the harsh east coast.

---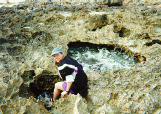 The rock formations on the east coast are pretty bizarre. This one was full of holes where water washed up.

---

Doing the scuba logs...

---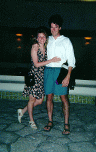 Ready to embark on the last night in Cozumel!

---

We ran into Kevin and Natalie, who were off one of the many cruise ships for the evening. They were very cool!

---

"We're gonna make it after all!" was playing in the background as we stumbled through the streets near the Plaza.

---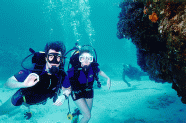 Nacho took this of us at 55 feet while diving the San Cedral Pass. I was so psyched to get good underwater pictures! Yes!

Photos by Nacho Gil
P.O. Box 36
Cozumel, Q. Roo. Mexico 77600
011 52 (987) 2-40-95

---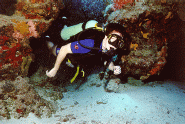 I'm exiting one of the underwater tunnels...

---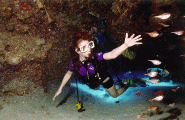 And now Joanne, while trying to catch dinner.